Network Security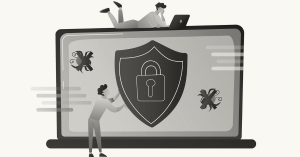 The more advanced and interconnected business IT becomes, the more cybercriminals will attempt to exploit it. Cyberattacks cost businesses hundreds of billions (soon to be trillions) of dollars a year in data theft, ransom payments, damaged public image, and lost productivity. Protecting your company from cyberattacks isn't a luxury, it's a necessity. For businesses, though, commercial grade cybersecurity tools just aren't enough.
To defend effectively against the many and varied threats on the internet today, businesses need enterprise-grade cybersecurity tools and constant monitoring of their systems and software. SolidTech provides comprehensive security measures that guard against threats entering your networks, quarantine and mitigate the ones that do, and educate employees to recognize and combat the victim-dependant cyberthreats no software can stop.
Our SolidSecurity Services Monitor and Protect You From:
Viruses
Trojans
Worms
Phishing Scams
Botnets
Ransomware
Spam
And more
Your business cannot afford holes in its networks.
We will ensure your defenses stay SOLID.